Something about the Winter Solstice awakens the human spirit, regardless of one's particular faith. It's a time of whimsical magic, and it transports us to a realm where our sense of wonder is the only compass we need to guide us. It truly is "the most magical time of the year," despite all the humbugs with which contemporary life attempts to burden it. Sadly, the calendar changes far too soon, and we ring in the New Year with a toast to the past and a vague hope for the future before succumbing to all those humbugs that tailgate our existences through the rest of any given year. Christmas, Hanukkah, Kwanza and all the other Winter Solstice celebrations, all about renewal in one way or another, fall sway to economic uncertainty, unnamed wars, collapsed 401Ks and any number of conditions that keep us up at the most inopportune times.
At least, that's how it works for most of the population.
There are people on this planet, however, who find magic in the most mundane quarters. Elke E is one such person. As a child of eight or so, living in Germany, she had the grand idea of making a doll house from an old shoebox that she found in the attic of her parent's house .She cut and glued and painted and drew until she had a perfect little home of her very own, replete with table, chairs, bed and probably other things that are important to an eight year old girl. Not content with her cardboard furniture, she took it a step further and upholstered them with bits of fabric.
Fast forward some forty years later. The eight year old girl is married now, and living in America, happy, but not on the soundest financial footing as Christmas approaches. She also has a three year old niece, and minimal funds with which to buy her presents. But she still remembers her dollhouse, and she still has her sense of wonder. Rescuing a storage box from work, she sets about to resurrect that piece of her childhood and bequeath it to her niece Shelby. Using bits and pieces of things she already had, or were otherwise going to the trash heap, she constructs, by mid- December, a lavishly furnished home for Shelby's dolls, and adds other hand-made characters and pets to keep them company. It's an instant hit, not only with Shelby, but with Shelby's circle of friends, and eclipses in popularity the store-bought toys they had all received.
Perhaps more importantly, the project reawakens Elke's own inner child and inspires her to make impromptu gifts for her friends, who, in turn, show them off to their friends, who urge her to take her crafts to the next level, and sell them commercially. She initially shrugs off such suggestions, though, considering it too time-consuming and labor-intensive to be a viable undertaking. Besides, she reasons, nobody would pay money for sculptures made from recycled cardboard packaging. For her, it's a labor of love, and a way to share her magical memories of childhood holidays spent in Stein am Rhein, Switzerland.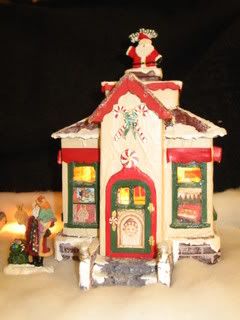 As enchanting as these miniatures are, what's even more amazing is the care that goes into each handmade piece. Elke's blueprints for her works are in her head. She starts with a vision of how the finished product will look, and works backwards to make the vision a reality. This entails an enormous amount of resourcefulness, creativity and preservation, since she works, with the exception of her environmentally friendly paints and glue, only with cardboard packaging that would otherwise end up in a landfill somewhere. Thus, otherwise discarded frozen dinner packaging, empty cigarette packs and various and sundry throwaways become the foundation for her creations. . Once she's completed the basic construction, she spends days painstakingly detailing each piece by hand, even adding frosted windows that reveal lighted interiors. In the end, each miniature stands on its own, but is easily integrated into a larger village.
With the Holiday Season of 2008 winding down and the uncertainty of 2009 looming before us, it's heartening to know that some element of magic remains to remind us that it wasn't such a bad year after all. Elke E's villages serve as a reminder that every year holds its own magic. They've proven so popular, in fact, that she's decided to expand her crafts to include other holidays and everyday events. As well as introducing a site that showcases her work and includes her thoughts on a variety of subjects. It's currently under construction, but, once live (in early 2009), should be entertaining and informative. In any case, Elke E is set to launch her childhood dreams into a vibrant reality.